Best Jayco Trailers to Buy Used | Baird, TX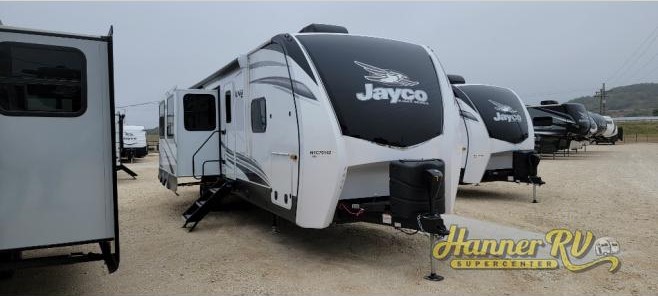 Buying a used trailer is often a smart purchase decision, but buying a used Jayco trailer in particular is an even better one. That's because Jayco products are made with high-quality construction techniques and materials that make them last longer than the competition. No wonder Jayco backs its RVs with an industry-leading 2+3 warranty.
Benefits Of Buying A Used RV
Even if you're not buying from Jayco, there are a number of general benefits to buying a used RV. The big one is price. Most brand-new trailers and fifth-wheels are expensive. Even if you can afford the new RV you want, you may prefer to spend your hard-earned money toward that RV vacation you've been planning or the next family camping trip. More money left in your pocket doesn't hurt either.
Used RVs have their perks as well. New RVs sometimes discontinue features from previous models that you may still want. Owners also commonly add features and technologies to their RVs that make them more appealing and totally unique compared to those rolling straight off the assembly line. And if you plan to turn your RV into a custom project, it simply makes more sense to invest your money into modifying a used RV instead of stripping down a new one.
Best Used Jayco RVs
Whether shopping new or used, Jayco RVs have something for everyone. These are the RVs we think are best suited for shoppers seeking something used and affordable.
Jayco 

Eagle
One of the mainstays of the Jayco RV lineup, the Eagle is available as either a half-ton travel trailer or full-size fifth wheel. There's a lot of variety in floor plans: the Eagle can sleep anywhere between two to 11 people depending on size and configuration. It has laminated fiberglass walls and a StrongholdVBL™ aluminum frame, the type of construction features that ensure an RV remains in good condition for a long time to come.
Jayco 

Jay Flight
One of the bestselling travel trailers in America for the past two decades, the Jay Flight is the ideal RV for all kinds of families. On the used market, you'll be able to find numerous floor plans and amenities to suit a variety of needs. Thanks to its innovative features and high-quality craftsmanship, you can feel confident that buying a Jay Flight, whether new or used, is always a good purchase decision.
Jayco 

Jay Flight SLX 7
The SLX 7 is part of the Jay Flight family of RVs. It's the smallest and lightest of the bunch, featuring just a single axle and weighing no more than 3,500 pounds. This makes the SLX 7 one of the most accessible and easy-to-handle RVs you can buy, one that you can tow with most midsize and full-size SUVs. Though small, it still has loads of features and, depending on the floorplan, has enough sleeping accommodations for a family of six.
Jayco 

Jay Flight SLX 8
If the SLX 7 is too small but the Jay Flight too big, there's always the SLX 8. It strikes a balance between the two popular RVs, giving you more room to walk around and relax without feeling crowded. Still, its relatively small size means you won't need to upgrade to a half-ton pickup truck just to tow it around. And with its residential-style kitchen, the SLX 8 feels far from a cheap RV.
Jayco 

North Point
The North Point is one of the most luxurious new RVs you can buy, and that doesn't change when purchased used — it just becomes more affordable. With a king-sized mattress, hardwood cabinetry, high-end entertainment system and many, many more premium amenities, the Jayco North Point is the RV you need if you'd rather spend the majority of your camping trip inside than outside.
Jayco 

Jay Seismic
Are you all about outdoor equipment and motorized fun? Then the Jayco Seismic is for you. This toy hauler features a garage with a large ramp that makes it easy to haul around your dirt bikes or quads. The best part is that the garage space is flexible enough to enhance interior convenience and comfort when you don't need to use it for storage or transportation.
Shopping for a used RV doesn't mean you have to compromise on what you want. Visit Hanner RV Supercenter in Baird, Texas, to check out our used RV inventory!