Forest River Wildwood FSX Overview | Baird, TX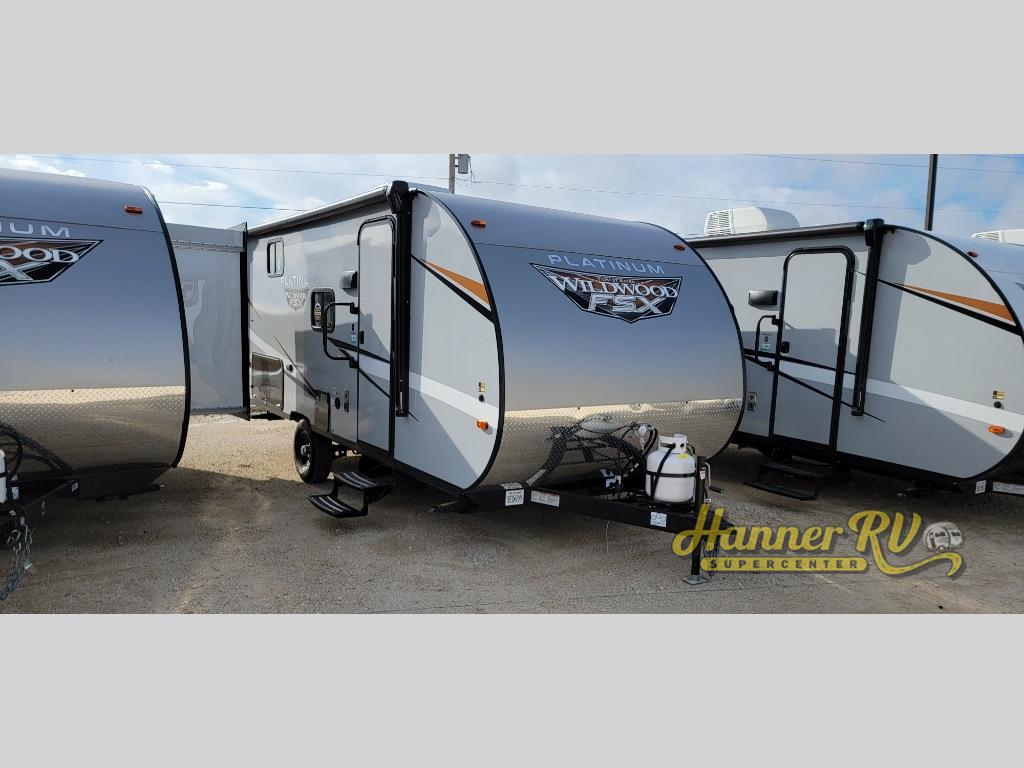 The Forest River Wildwood FSX is a full-featured, lightweight RV that is easy to tow and is offered as either a travel trailer or toy hauler. Handcrafted by Amish tradesmen in Topeka, Indiana, the Wildwood FSX boasts numerous best-in-class features such as storage, panoramic windows, and full kitchens.
But its biggest strength is versatility. With 11 floor plans ranging from a compact, 3,000-pound coach with a single Queen-sized bed to an expansive, 6,000-pound trailer with a garage — and everything in between — the Wildwood FSX is well suited for families of varying sizes and budgets.
High-Quality Construction
No matter the floor plan, the Wildwood FSX gives you the peace of mind that your money will be well invested. Its high-quality construction includes a SuperFlex one-piece roof, a powder-coated I-Beam Frame, triple-sealed slide-outs, scratch-resistant exterior paint, and thorough fiberglass insulation. Toy hauler models also feature full-height steel floor supports every 24 inches for maximum reinforcement, and all Wildwood FSX models come with nitrogen-filled tires, which help them better maintain pressure. After all, a flat tire is bad no matter what you're towing, but it's even worse when you're towing an entire home.
Residential-Style Kitchen
Nothing defines an RV quite like its kitchen. Whether cooking a family dinner, doing meal prep for a camping trip, or socializing over a cup of coffee, the kitchen is often considered the heart of the home, and that remains true even if that home happens to be mobile. With its high rise faucet, deep sink, glass-covered burner, frost-free double-door refrigerator, large microwave, and lots of counter space, the Wildwood FSX's kitchen feels just like a traditional, residential kitchen. There's also plenty of walking space so you don't have to trip over your family while preparing meals.
Premium Feel
The Forest River Wildwood FSX does more than just give you a place to stay while on the road. It goes to great lengths to make you feel at home with luxury features and premium amenities that enhance day-to-day living. For example, it has the largest opening panoramic windows in its class, greatly enhancing the sense of interior space while also improving airflow. The RV also features thick vinyl flooring with a beautiful herringbone pattern evocative of the real thing, and easier to clean than carpet. Combined with a roomy shower, solidly-constructed cabinets, wide-opening doors, tasteful interior décor, and plush mattresses, the Wildwood FSX truly feels like home away from home.
Toy Hauling Fun
Six of the Wildwood FSX's floor plans are toy haulers. These models feature a large garage door (at the minimum 82 inches wide and 75 inches tall) enclosing a garage up to 168 inches long. The Wildwood FSX toy hauler is specially designed to maximize room for four-wheelers, motorcycles, and other such outdoor equipment without compromising interior living space. The garage door doubles as a ramp, making it easy to wheel your off-roaders out of the RV. The door can even be used as a patio while left extended. For those times you don't need the garage space, pull-out sofas ensure you have extra sleeping accommodations. And when you get back from a muddy ride, the outside hot/cold shower has got you covered.
Whether you're looking for an RV to camp with your significant other, with a small or large family, or to go on motorized off-road adventures, you can find a that meets your needs.
Visit Hanner RV in Baird, Texas, for a closer look at the Forest River Wildwood FSX. The best way to know which floor plan you want is to take a look inside!