Jayco Climate Shield | Baird, TX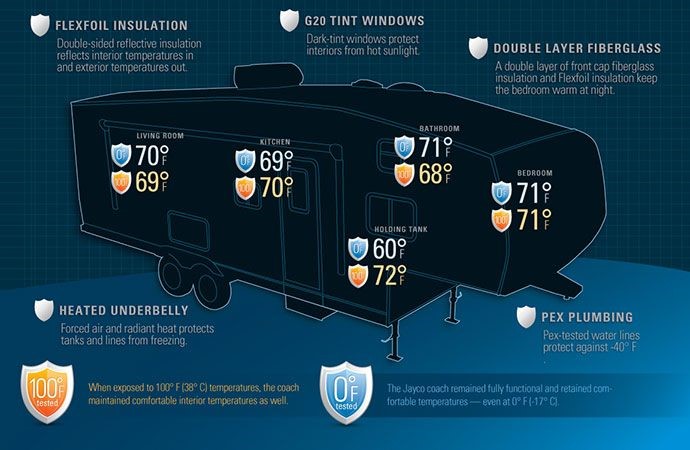 Here in Texas, the camping season never really ends. Our winters are milder than in northern states, so you can extend your camping season and enjoy going on adventures in your Jayco RV all year long. In addition to having warmer weather, the Jayco Climate Shield is also key to helping you enjoy camping in the winter. This weather protection package works for both hot and cold climates, protecting your Jayco RV in a variety of conditions.
Package Features
The Jayco Climate Shield is available on a range of Jayco models, including Pinnacle luxury fifth wheels, North Point, Eagle products, and Seismic and Talon toy haulers. The package comes with a heated underbelly, dark tint windows, double-sided flex foil insulation and durable PEX plumbing. The heated underbelly uses forced air and radiant heat to keep lines and tanks from freezing, while G20 tint windows prevent harsh sunlight from reaching the interior.
There's also double-layer fiberglass, which retains heat in the bedroom during the night with Radiant Barrier insulation and front cap fiberglass insulation. Radiant barrier insulation is double-sided reflective insulation that works to keep exterior temperatures outside and interior temperatures inside the RV. In addition, PEX plumbing protects your water lines even when temperatures drop down as low as minus 40 degrees Fahrenheit.
Extensive Testing
To ensure the Jayco Climate Shield is effective, Jayco and Dometic partnered together to test the four-season package and measure its success in extreme temperatures. As such, independent technicians placed RVs in both cold and hot temperatures for extended periods of time.
In each test, the Jayco Climate Shield was able to retain a comfortable temperature. Technicians also tested the water tank and found that it withstood frigid conditions as well.
To learn more about the Jayco Climate Shield and how you can go camping year-round, visit us at Hanner RV Supercenter.